Posted by
Jennifer
on
Tuesday, February 4th, 2014
and filed under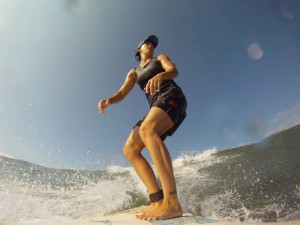 Kristen Buchanan (Kris Fillat) is no stranger to hard work. She played women's field hockey for the U.S. Olympic team for more than a decade. Now she owns and operates the GoodOnYaDeli in San Diego and sells GoodOnYa bars at health food stores all over the country. "I used to think that running 8 X 200s [sprint workouts] was stress," she says with a laugh.
To be clear, like many other small business owners, the Encinitas, California, native has a huge passion for what she does. She takes great pride in serving up organic and local foods at her deli and producing organic, gluten-free, grain-free soy-free, dairy free and non-GMO energy bars.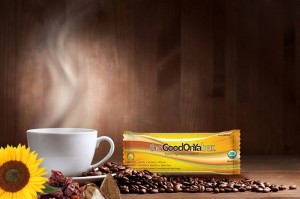 The GoodOnYa bar was born out of a sense of accountability that Kristen felt for her deli customers. The deli, located in an office park, serves very busy people who often don't have time to wait for a lunch order. She saw that a lot of folks were grabbing to-go items like energy bars. "You stand at the counter, you take someone's money and you know that they are going to put that into their body," Kristen explains. "It's an overlooked responsibility, and I started to think about it. The terrible processed oils, all the sugar."
That's when Kristen took matters into her own hands. She dug deep, did the research and developed a variety of energy bars that could be considered some of the healthiest on the planet. The new bar fit right in at the deli, which serves items like raw, organic milk obtained from local farmers. "Before 'local' was even a word in regards to food, it was always a part of who we are," she says.
Kristen says she wasn't always a healthy eater herself. Unfortunately she didn't have a lot of education about diet and nutrition when she was playing field hockey. She calls herself a "junk food athlete," who ate energy bars loaded with ingredients she couldn't pronounce. "You needed bars to survive," says Kristen, whose athletic career took shape when energy bars had come onto the market and began to evolve. She also ate a lot of processed grains and factory-farmed meat. Poor diets seemed to be the norm among her peers. "There were eight McDonald's restaurants at Olympic Village in Atlanta [1996 Summer Olympics] and they were full of athletes," she says.
Not long after Kristen retired from field hockey, she was diagnosed with Hashimoto's disease, a condition in which the immune system attacks the thyroid. It was then that she began to really study the effects her diet had on her health. And once she learned the truth behind some of the ingredients in her foods, there was no going back to bad habits.
"I tell people it's like The Matrix. There's a red pill and a blue pill. When you take that first blue pill and you go down that rabbit hole, you become that person that no one wants to go to dinner with," she jokes. "But you don't have to be a freak about how you eat to eat healthy."
For those who are ready to make a change, Kristen offers this great piece of advice. She calls it "the 80/20." Essentially she tells people to commit to eating whole foods, and cut out junk food at least 80 percent of the time, especially when you are going about your everyday routine. Then, when you have special occasions and are going out to eat—basically that other 20 percent of the time—try to make the best choices possible, but don't stress about it.
Try not to stress too much about the work stuff either, Kristen warns. "Don't forget to enjoy life." That will keep you happy and healthy, too, she adds. When she's not helping her crew wash dishes, she can be found out surfing or skateboarding.
Kristen says the best thing about being an Olympic athlete turned business owner is that she was pretty familiar with teamwork. "I don't think you can be on a team that long without looking at leading a café crew in the same way," she explains. "I feel like a lot of those business seminars that teach teambuilding, I've done some of that already. It's so second nature."
If you're tying to make better on-the-go eating decisions, you can now order GoodOnYa bars via the GimmeAnother app. "It's innovative," Kristen says of the re-order solution. "People are really into their smartphones, and this app introduces a little more ease into our busy lives."
---