Posted by
Jennifer
on
Tuesday, January 21st, 2014
and filed under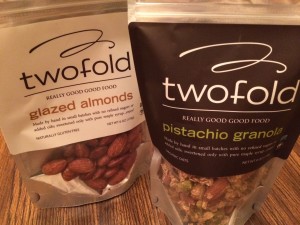 The Windy City has become Startup City. In addition to their own achievements, Chicago's entrepreneurs champion the successes of the companies growing around them, because each individual victory is also a collective victory for the greater startup family. We wrote this blog to share a little story about how we learned a sweet lesson in never being afraid to reach out to our fellow startup peers.
Since GimmeAnother's inception nearly a year ago to our recent launch this fall, we've met some cool startup brothers and sisters. People have championed our efforts, mentored us with great tips and, best of all, just let us know that we're not alone as we soldier on. Recently Chicago-based Twofold signed up to offer its customers the convenience of the GimmeAnother app, an app that lets consumers re-order their favorite products in 10-seconds or less.
We were tickled pink with Twofold's enthusiasm for our app and thrilled that the company joined forces with us for two reasons: The first reason is purely selfish: We love Twofold's products. There's nothing like chowing down on a bag of glazed almonds while coding our next technology update. And now, as Twofold fans, we can use our smartphones to make sure we are never without our favorite, healthy-but-tasty Twofold treats, like Quinoa Granola. Yes, that was sort of a shameless plug about our app.
Now, please let us take a minute to tell you more about Twofold. A pair of smart gals who had jumped ship from the corporate world founded the company in 2012. They realized the need for healthy take-with-you snacks after going on too many junk-food laden business trips. Twofold specializes in making completely natural, on-the-go snacks with simple ingredients you can pronounce and feel confident about putting into your body. "Your food doesn't have to have all these added sugars and oils," says co-founder Paula Morawski. Twofold makes its "really good good food" in small batches in a Chicago kitchen.
When GimmeAnother approached Paula about offering her customers our service, she quickly said yes. "We think it's a cool concept," she says. "If a customer finds something they really like, it offers them a way to quickly get it, rather than having to do a subscription."
Now for the second but most important reason we were glad Twofold opted in with GimmeAnother: We pitched them the opportunity, and they quickly snatched it up. Sure, they liked the concept of GimmeAnother, but they also liked the idea of two Chicago startups helping each other out.
"I'm more than willing to support another startup," says Paula, "especially a local business in Chicago. When I heard about GimmeAnother, I thought, 'I've got nothing to lose, and it seems pretty easy to give it a try. It's a Chicago retail startup partnering with a Chicago tech startup. It makes sense.'"
Paula goes on to explain the importance of never hesitating to reach out and to be creative in ways in which you may want to partner with someone. "GimmeAnother wasn't on my radar screen yet," she says. "When Andrew Figgins [GimmeAnother's CTO] reached out, I said, 'let's talk.' I was interested, and it worked. But if it wouldn't have worked out, I still might have known someone else who it might have worked out with. You just never know. I think people sometimes put up their own mental road blocks. Don't be afraid to pick up the phone."
The GimmeAnother team couldn't agree more. We relish the idea of doing what we can to help other startups. Our awesome experience with Twofold reminded us of the fact that in Chicago, you don't have to look far to get a scratch on the back.
So listen up, fellow startup-ers. As you sharpen sales pitches, make those cold calls and send out countless emails to potential customers and investors, don't forget to knock on the doors of your Chi-town entrepreneurial comrades. They'll no doubt throw you a bone.
If you want to help two companies out at once, download the GimmeAnother app and place a Twofold order*. And if there's anything WE can do for you, don't hesitate to give us a shout.
* A bag of Twofold's Pistachio Granola was severely harmed during the making of this blog.
---